My little niece had a birthday recently. I wanted to make her something sweet and cute. Every little girl needs ruffles. There was a pattern I printed from the Red Heart website but can't find it on there anymore. Sorry, no link. This skirt is so sweet. There are ruffles upon ruffles. I just love them all.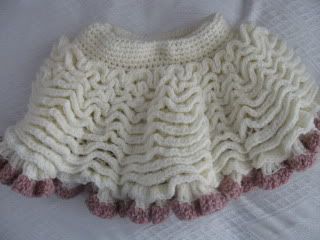 The waist is crocheted around a d gathered elastic.
Are there ever too many ruffles?
This skirt makes me smile. I can't wait to see my little niece wearing it. She will look so adorable. I am also finishing a headband to match with a rosette. I will post pics when it's finished.
Linking to: