As the days get cooler we start to prepare for using our wood stove. Usually in the summer I put all of these things in the basement out of the way. These cans we use for ash and for fire starter, usually pine cones.
They were in desperate need of some TLC. So out comes the spray paint.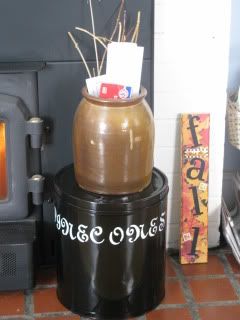 They look so much better! After the spray paint I took a paint pen and a couple of stencils so we can distinguish what each can is for. This would have been so much better with vinyl but I am one of the lone crafters without a vinyl machine. Can you hear me sobbing?!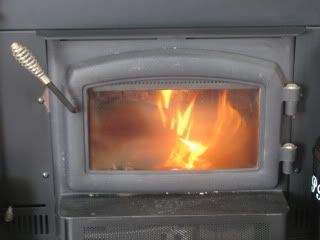 One of the first fires of the year to chase away the chill. It doesn't get any better.
Today is a perfect fall day. The sun is shining, there is a brisk breeze and it's beautiful. The only thing missing in this picture is the fall leaf colors. Thanks to copious amounts of rain here this season and damage from Hurricane Irene, the trees are losing their leaves before the fall color peak. I do miss those lovely colors. Driving down tree lined streets all dressed in their fall colors is a favorite fall activity. I am missing it.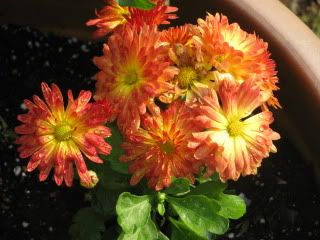 There is plenty of beautiful color in my beautiful mums. These two pictures are the mums when I planted them last year. They were so small and lost in the large planter.
These are the gorgeous mums now. I think I will need to thin them out next year. They are a spectacular splash of color.
It has been warm here. This week is our first week of fall temps. These are the last of the peppers I picked from my garden earlier this week. This is the first year that I have had luck growing peppers. Still no luck with the squash. Something in this soil does not agree with them. I think it's squash vine borers. Many people in this area have the same issue.
Tomorrow I will pick a winner in the rosette giveaway. If you would like a chance to win stop
here
.
I'm linking to:
Crafty, Scrappy, Happy Me Thursday
Tickled Pink @ 504 Main
Weekend Wrap Up @ Tatertots and Jello
Get Your Craft on @Todays Creative Blog