My craft stash is quite large and currently I am trying to clean out, organize, and use of as many supplies as I can before buying more. This is never easy. There are so many great supplies calling my name. To help with this, I have not been to Joann's, Michaels, or Hobby Lobby in weeks. But I did want a new wreath for our door. I wanted one that could stay up through the winter. Searching through my stash I found tons of white, sheer ribbon and tulle. I did not have a wreath form so I improvised with cardboard. Using a plate and bowl I cut out two circles of cardboard and the inside circles. Then I glued them together for stability. Then I cut all the tulle and ribbon to fairly even lengths. Then I began wrapping them around the form and tying them all around. I wanted the wreath to be very full and fluffy so I pushed each piece tightly together.
Here is the form filled with the tulle and ribbon. Now the embellishment possibilities are endless.
Because I was working with what I already had, I was limited in my embellishments. These snowflakes were already in my stash so I hot glued them around the center of the wreath. I really wish I had more blue to add to the wreath. For now they are glued lightly and I can alter it whenever I find something I like more.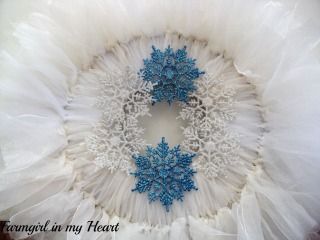 Here is the wreath on our door. I am quite pleased with it. The best part was that everything was on hand. The ribbon and tulle had been in my stash for a veeerrrryyy lllooonnnggg time and it makes me happy to see it put to good use.
My next project was another Pinterest favorite. It is originally found
here
. When I tried this, I could not find the original pin and I was in a bit of a hurry so I winged it. I had the basic idea in my head from seeing it previously. First, I started with the paper doily and followed her directions for that part. The next part is what I tried on my own. I printed up a large E and cut it out.
Then using a fine point Sharpie marker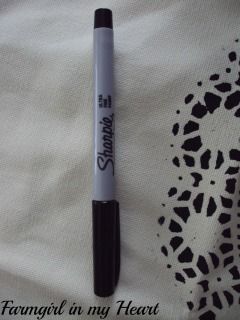 I traced the letter
Here it is missing a few lines but that's ok.
Then I filled it in with paint and ironed the bag to make it washer safe (at least I hope so). I sent this off as a gift to a friend and I hope she loves it. She loves monograms and I do believe I saw this her on to do list one day. I hope I beat her to it.
There are so many projects started and others still swirling around my head. Hopefully, I can finish them and post them soon.
I will be linking up to the fabulous parties
here
.