Spring is in the air. The weather here has been gorgeous!! The temps have reached 80 twice this week. We are being spoiled. It is coming to an end this weekend. Showers and much lower temps are on the way.
But while we are enjoying this spectacular weather I have been starting some spring cleaning. With three dogs spring cleaning lasts the whole spring. Muddy footprints abound here, as well as fur, especially from our husky girl.
The living room needs some paint and new window trim, along with new window treatments. But while I am not ready to bite off these large projects, I started some small spring projects.
A new centerpiece for our dining table was my first project.
I started with a sheet of moss from Joann's.
These small bottles were a find at an antique store. I cut the sheet of moss into strips and attached them to the bottles with a little hot glue, then tied them with twine.
Sorry for the dark photos. I have to wait until night time for some creativity time.
With the bottles completed, I put them in a tray that I had on hand. To add some color I used glass beads my neighbor gave me.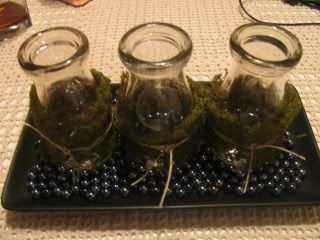 I added these little buttons. They were a perfect touch with the twine.
I felt like they needed a something to make them pop. I wanted it to be bright and cheerful.
On a trip to AC Moore with my son, I saw these flowers. While I wish they were real, they were too cute to pass up.
They are the perfect spring touch.
They may be replaced with some real tulips eventually.
Until then they make me smile.
The colors of spring and the promise of new life is something to look forward to.
I have been working on a couple of other projects and will be sharing them soon. It is still a bit busy here. We have a lot of school work I would like to finish before June. A new puppy full of energy and a husky still recuperating. She has made great progress and looks much better.
Looking forward to sharing more spring fun with you.
Linking to: