This room was originally our daughter's room but since she has moved onto the real world and college we decided it would become my craft studio.
This was the space before in these pictures.
I moved all of my craft supplies from the basement into this room. I started this in December and it is still a work in progress but it is getting there. I have so many inspiration photos on my Pinterest boards.
Before:
This is my ribbon drawer. I have wrapped most of my ribbon around cardboard pieces to eliminate the bulky spools they are on. Now this drawer needed to be neatened and organized.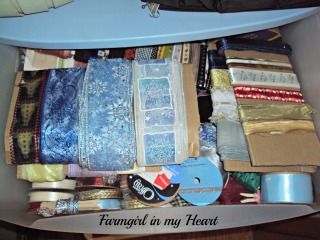 Here is the after:
I still have some very fine ribbons on their original spools under the cardboard. This method saves quite a bit of space. Much better.
This is a little cabinet that is a bit beat up but still loved. I use it to store my yarn and papers. I use many different containers on top to hold more supplies.
These sweet little porcelain buckets were on clearance a while back at Christmas Tree Shops for fifty cents. Now they hold my brushes, pens, paint pens and markers on my desk.
This container was from a Bath & Body Works gift set. It has an interesting shape and I like the pattern on it. I use it to hold bits and pieces of this and that while I work on a project. This keeps the desk surface clear. The small draw organizers are great to store paper punches, stickers, and many forms of ephemera.
This cabinet was in the basement but I brought it up to this room because it is a great storage piece. It is a bit on the plain and uninteresting side so I want to pretty it up somehow. I am currently looking for inspiration and ideas. Please share any you have.
I used the small closet space to hold fabrics. I hung them on the rod with skirt/pant hangers.
Underneath it is a three drawer cabinet to hold more supplies.
This room is far from being finished. I will continue to work on organizing but I also want to use the time to create pretty things.