Shortly after Christmas I came down with the flu. I had not had the flu for about 14 years and completely forgot how horrible it really is. It took me out of commission for quite a few days, and even when you start to feel better it leaves you feeling so weak. It had taken some time to completely recuperate and start back with a schooling schedule. Things are returning back to normal pretty much and I have missed blogging. There were posts I want to complete for the New Year but they were completely forgotten about. My only goal was to not feel so weak.
This post is about some slightly neglected areas of our home that finally received a dose of tlc.
The first is in our bedroom. I do have further plans for this room but that will be in a future post.
For now, I replaced my awful, on sale Target nightstand with a sweet little find.
Well hubby and I were on a date at this
little village
not far from us we found this little treasure.
I need to get some baskets for the shelf to better organize it. It is on the to do list.
We picked it right up. I love the shape and finish on this piece. The distressing is perfect and the price was almost too fabulous to believe.
I love the shape of the legs. The shelf is already full of books on my must read list.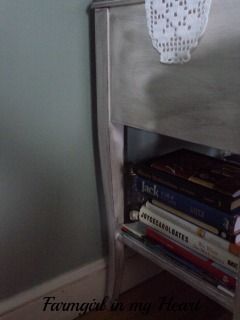 This area at the top of our steps was the second neglected spot. It is the second floor landing of our home. Not sure what happened to the picture. The armoire does not have that color distortion in real life.
There was only one lonely chair there and I knew it needed something else.
My mom found and picked up this sweet little table at Home Goods. I love it and how much better this space looks now.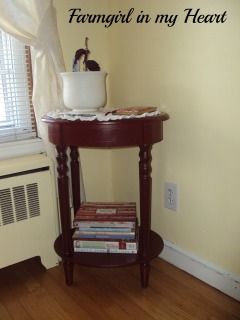 I am much happier with this space.
I need to add some art work to the bare walls and then it will be perfect. The yellow is hubby's color choice. I would have loved something a little more neutral but he likes it. The picture below is the true color. Up top is a bit too bright. Not sure what happened with these pictures.
Next post will be my 2013 goals for our home. Better late than never.